Vice Chancellor's Message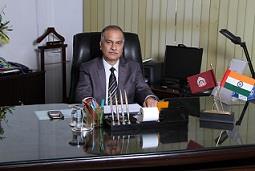 The University of Jammu is one of the India's premier teaching and reserach University and has been rated by the National Assessment and Accreditation (NAAC) as an A+ Grade University. The University of Jammu has also been granted autonomy by the UGC and listed as Category I University. The University of Jammu has a firm commitment to academic excellence internalizing modern day requirements but not ignoring the traditional and local wisdom.
It is a matter of great satisfaction that the Udhampur Campus, one of the oldest Offsite Campuses of University f Jammu has been constantly striving hard to grow and develop in all spheres, folllowing the footsteps of the main campus. And having its own website is one such step in this direction to keep the present and prospective students and their guardians around the country abreast with the academic and extracurricular achievements and serene environment of the campus.
Udhampur Campus encourages practices and policies that support healthy student activities and make efforts to create an environment where learning takes place both in and out of the campus. It also strives hard to achieve quality and excellence in academic pursuits to bring a desirable social change in the society and to enhance employability level in the job market. The Campus aims to provide an enriching, vibrant and a contemporary learning experience to the students, by keeping pace with the dynamic environment. It acts as a catalyst for the overall growth of the students who desire to pursue education in this temple of learning.
Prof. Manoj Kumar Dhar
Vice Chancellor
University of Jammu