Places of Interest (Near Udhampur)
Patnitop
Relatively unknown, compared to the other tourist spots in the state Patnitop is no less beautiful or serene. With all its beauty at a hill station, it is a charming plateau at 2,024m. The meadow is surrounded by dense woods and lush greenery of Pines. Visiting Time Although Patnitop is an 'anytime' place, the best time for a visit are summer, during May-June, and autumn, September-October. If seeking snowboard joys, December to March is the time to be here.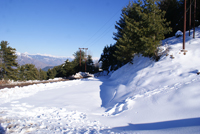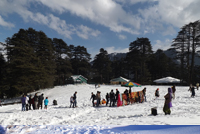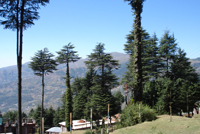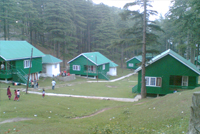 Nathatop
11 km from Patnitop, en route to Sanasar, it offers scenic views of the surrounding Shivalik range and the Brahma massif of the Kishtwar Himalayas. One of the most popular attraction of patnitop is nathatop. Nathatop will offer you a great view of snow coated hills. Now these days nathatop is most popular due to paragliding. Hi flying from natha top will make you fill like that you are walking on the clouds. Hi flying from nathatop will provide you a good air view of surrounding peaks. Hi flying from nathatop needs a good practice of paragliding due to the reason that some times hi flying from nathatop may become a hard experience for you.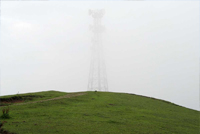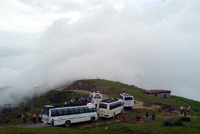 Sanasar
Named after small local lakes, Sana and Sar are located 20 km west of Patnitop, it is a hub of wilderness adventure camps and paragliding. The tourist destination of Sanasar lies at a distance of 119 kilometers from the Jammu city. Kashmir Hub offers you several tours and travel options to the picturesque cup shaped meadow, Sanasar, which is surrounded by coniferous trees. Sanasar lies at a distance of 17 kilometers from Patnitop and is an ideal travel destination. Sanasar is perfect for those who are keen on spending a quite and peaceful holiday. Tourists, who travel to Sanasar and are inclined towards adventure sports, can enjoy paragliding, horse riding and camping activities. Proper paragliding training camps are organized.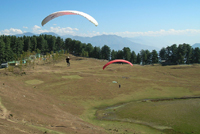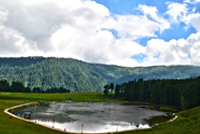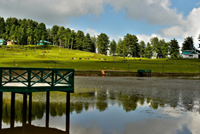 Pancheri
One of the best hill station about 40 km from Udhampur city; it is health resort with very pleasant weather; annual shankri devta mela is a big tourist attraction in summers.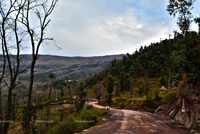 Shri Mata Vaishno Devi shrine
Situated 62 km away from Jammu, Vaishno Devi shrine is located at an altitude of 1615 m above sea level. The shrine is located inside a cave on Trikuta Hills. To reach here, one has to start climbing from Katra, which is around 14 km from here. Many pilgrims cover this distance bare foot to please the Goddess and get her blessings. Inside the cave there are three rocks cut statues that represent the three Goddesses. Goddess Kali in right, Goddess Lakshmi in center and Goddess Saraswati in the left.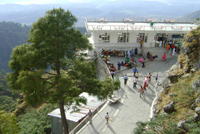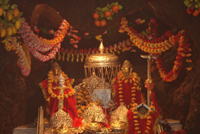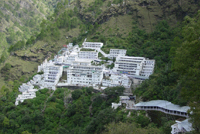 Ramnagar fort
Ramnagar Fort is near Sheesh Mahal, Udhampur. Ramnagar Fort is believed to have been built by Raja Suchet Singh, who died in 1844. His wife performed sati nearby. There is a Samadhi of Maharani at the site where the sati was performed. The fort was renovated and undertaken by the Archaeological Survey of India in 1972. It is a protected monument of the Archaeological department.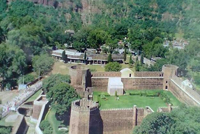 Sudh Mahadev
Believed to be 2800 years old, the temple of Sudh Mahadev houses a natural black marble Lingam, the Trident (Trishul) of Lord Shiva and mace believed to be that of Bheema, one of the five legendary Pandava brothers. This holy temple near Patnitop is situated at an altitude of 1225 m and is about 120 kms from Jammu. Sudhmahadev has a spring by the name Pap Nashni Bowli. It is believed that taking bath in it relieves a devotee of all sins. After bath one proceeds towards the holy temple of Lord Shiva. Pilgrims visit the shrine on Historic Sudhmahadev 3 day Festival (Mela) on the full moon night of 'Sawan' (June -July) to worship the Trident (Trishul) and a mace. During this 3 day festival, arrangements are made by the state government administration to provide facilities to the visitors. Adequate transport is also provided by the government agencies from various destinations. The government also ensures security arrangements. Good health facilities are also made available. Cultural programs are organized during the 3 day festival; in which the local performers entertain the visitors by showcasing various local dances and singing folk songs. One can have stay in the temporary tented accommodations provided by J&K Tourism Development Department or even a Sarai maintained by the Dharamarth Trust, beside a few guest houses are also there.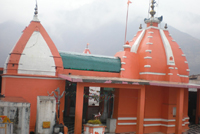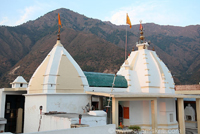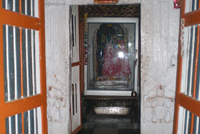 Kiramchi Temples
Krimchi is a tiny village in the Udhampur district of the state of Jammu and Kashmir. This district is famous for its mineral deposits. Krimchi is the site of one of the oldest temple complexes of Jammu. Believed to have been constructed in the 11th - 12th century AD, this group of temples, also locally known as the Pandava Temples. Consists of 4 large and 3 small temples dedicated to Lord Shiv. The architecture of the temples shows distinct Greek (Hellenic) influences. As per the legends, Raja Kichak of Mahabharat was said to be the creator of town Krimchi and the Kingdom. It is also said that Pandavas while in exile remained there for a long period.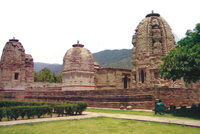 Devika Ghat
Kali Mata Mandir
Babore Temples Shankari Devta Mandir in Pancheri
Shrines of Chountra Devi
Pingla Devi
Kansar Devta's shrine